Wednesday, February 24, 2010
Home Decoration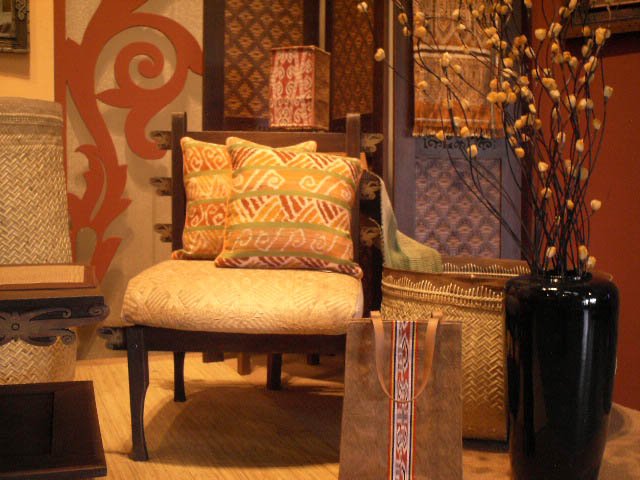 So you pick up your favourite fashion magazine and note the Versace runway show features bold graphic prints in vibrant colours. The same day, it seems, you can walk into a big-box store and snap up a throw pillow or curtains in a similar print, or a host of other items inspired by what's on the runways this season.

But is this a good thing for your decor?

"Movements in home decoration have always followed fashion trends, but never as quickly as they do today," said Jean-Claude Poitras, a multi-award-winning Montreal designer who left behind a 30-year career in fashion for the world of home design.

Somewhat ironically, he abandoned his own high-fashion label and designing for the likes of Le Château because he wanted to produce stylish things people would live with for more than one season. Recent projects include a contemporary prefab (or, as current terminology has it, pre-engineered) home design for Les Maisons Bonneville, and interior doors with stained-glass insets for Rona stores.

Style should trump the trends every time, says this designer, who is putting the final touches to his new Poitras 13, rue de l'univers collections of tableware and home linens, set to launch at the Vitre-Art showroom new month.

"Beautiful, timeless design is something you can live with and enjoy indefinitely," he said.


"An eclectic or trendy touch here and there is fine, but you have to keep in mind it won't last."

In his own home, for instance, one lime-green wall provides a vivid focal point in the overall colour scheme of grey and white.

"Bright colours are trendy, it's true," he said, "but this decor only works because I have a preference for strong, saturated colours." Should he decide to move, he can always tone down the accent wall for potential buyers who may not share his taste.

And his latest Poitras, 13 rue de l'univers porcelain dishware collections contain a nod to lifestyle trends - because not only are there stylish takes on the traditional place setting, but four collections of smaller serving dishes that are perfect to serve up tapas or to exercise a little elegant portion control.

Another downside of obsession with what's in fashion is that it tends to confuse people, he said. Poitras, who also offers style consultations to homeowners, finds most are likely to have researched the trends. But they also are just as likely to be unsure about where their true tastes lie.

"Which is why I interview them at length," he said. "It often takes time to get a clear picture of what style they really resonate with - what really fits their lifestyles."

Wanting to give your home a fashionable touch is a perfectly natural impulse, said Colleen Uncao, a spokesperson for HomeSense stores across Canada.

"Your home is an extension of your self," she said. "In the same way you like to update your wardrobe each season, you'll want to refresh your decor."


And much as you won't change every item in your closet twice a year, nor should you completely redecorate. A new throw here, some cushions or a table lamp there can go a long way.

For instance, head-to-toe denim may be a trend in fashion, but an all-denim room could be boring. Yet, you might find a light-blue denim lounge such as the one in the HomeSense spring collection just the thing. Or reupholster your dining-room chairs or add some other denim accent.

"And because blue is such a strong colour in fashion and decor for spring, it's a good way to inject some life - especially to a neutral colour scheme," Uncao said.

As with fashion, however, any update should also make a statement about you, she said. For instance, getting an ottoman or other accent in a trendy tribal print makes more sense if travel happens to be one of your passions.

"And this season the colours should be bright and vivid rather than spicy," she said.

Six Trends to Consider

So which is more important in home decor, fashion or lifestyle?

"For some people, being trendy is a lifestyle," said interior decorator Diane Boyd, owner of Design Lignum Vitae in Lasalle. "Your decor should reflect your tastes, your lifestyle, and only to an extent you're comfortable with."

A stylish lady who also handles event and wedding planning for her customers, Boyd stays up on the trends. Here's her take on how to incorporate six fashion trends for spring 2010 that you might want to bring to your home:


1. Tribal Influences: Designers such as Cavalli, Fendi and Ralph Lauren liked this trend. And it's been a hit in home decor for a few seasons. "Many people overdo it with the prints," Boyd said, "mixing, say, zebra print with giraffe and then a batik." Warm, earthy colours are in for interiors. Pick a striking print in these shades to dominate, then underplay pattern in the rest of your room, confining it to a rug, throw cushions or other accessory.

2. A Touch of Midas: Gold and other warm metallics accented many runway collections, from Balmain's gold sequined mini-dress to a long gown at Dior, or chain-encrusted cuffs at Lanvin. As in fashion, though, in home decor the latest gold standard is muted: warm muted gold or dirty bronze. Antique gold, especially, adds sparkle and richness.

3. Denim and More Denim: Many designers embraced the head-to-toe denim trend, a throwback to the 1980s. But before you rush out and recover the sofa in denim, stop and think."As with so many trends, this one will probably get old within a few months," Boyd said. "Update your classic pieces with denim throw cushions or do your walls in denim-inspired wallpaper or paint in that colour - something you can change later."

4. Mixing Florals: A jumble of mismatched floral patterns may be a breath of fresh air in fashion, but approach with caution before adding this look to your decor, she said. "When you mix too many or the wrong patterns it will have an effect opposite to what you're after. It can actually be repelling." Boyd suggests no more than two or three floral patterns per room, making sure your prints are in the same colour family. If using a large floral pattern, let it dominate and make sure all other prints are smaller.


5. Colour Me Beige: From Burberry and Chanel to Valentino, shades of this hue were prevalent on runways. It's nothing new for interior decor, of course. "With the recession, people are afraid of big changes," Boyd said. "This is a classic and safe way to go for an interior colour scheme." And it can make it easier when it comes to resale, as a neutral is most recommended by home stagers. It does make sense adding a focal point, so consider incorporating a striking feature somewhere in the room.

6. Mad Men Look: The show that brought back the beehive hairdo and cat-eye makeup also helped boost a furniture trend: 1960s-inspired, sometimes called mid-century modern. Now you can get the sleek, pared-down design at many mainstream furniture outlets. If you're not redecorating completely in this look, try one funky piece - like a retro-inspired bar console or chrome-legged chair. "Then balance it with the rest of your accessories," Boyd said.